Plastic model PhotoContest
Let's assemble Aoshima's plastic model kits and take pictures of them!
Once a month, the top rankings are determined by the number of "Likes"!
Hushtag of Sep: #aoshimaranking2309
How to Apply
1
Follow Aoshima's account
Follow Aoshima's official account on Twitter or Instagram.
@aoshima_PR
aoshima.global.official
2
Photographing Plastic Models
Take one of your best shots of the trend!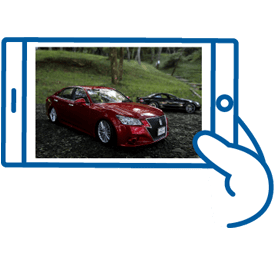 ※You can use any kind of photography equipment, including smartphones, tablets, and cameras.
3
Post a photo with the specified hashtag
Add the hashtag "#aoshimaranking2309" and post it with a photo of your work!
※Submissions with private accounts will not be eligible for entry.
※You can submit as many entries as you like.
Overview
The number of likes on Twitter and Instagram will be counted from the submitted works, and the ranking will be announced. After confirming the total for the previous month, the top entries will be posted on the website for a certain period of time.
Application Rules
*After reviewing the entries, the secretariat plans to publish them within 5-10 business days of the month following the submission.
*Please use Aoshima's plastic model kits of cars, motorcycles, and trucks for your entries. (Any other company's products can be used for detail-up parts.)
*Please refrain from using photos that have been significantly processed, such as composites.
*All submitted photos must be of the applicant himself/herself making and photographing the plastic model, and all copyrights must be held by the applicant. Use of other people's photos will result in disqualification.
*Entries must be unpublished with no plans to be published. Entries that have been published on social networking sites or blogs may be submitted.
*Photos with people in them are not eligible.
*Please note that we may use your photo for example in our website.
*Please use only one image per submission.
*If there are multiple images in a single submission, only the first image will be considered.
*Submissions without the specified hashtag will not be accepted.
Caution
Please refrain from submitting entries that fall into any of the following categories.
Submissions that the management deems to fall under any of the following categories will not be eligible.
○Entries that violate the terms of application
○Entries that slander individuals, companies, or organizations, or that violate privacy.
○Anything that differs from the theme or intent of this site
○Entries that are or may be offensive to public order and morals
○Those that contain the meaning of buying, selling, or similar activities, posting of specific sites or addresses, or advertising activities.
○Entries that include actions that may interfere with the operation of the contest or damage trust.
○Entries that may violate the rights of a specific character or celebrity
○Entries that violate the copyright or portrait rights of a third party
○Any material that slanders a third party or infringes on their privacy.
○Entries that violate laws and regulations, or are connected to criminal acts, and may lead to criminal acts.
Others that the management deems inappropriate.
※Application details and period are subject to change depending on the situation.
〇Aoshima Bunka Kyozai Co., Ltd. shall not be liable for any loss, liability, damage, expense, or other claim arising out of participation in the contest or winning any prize.
〇Although we operate this contest with the utmost care, we do not guarantee the completeness, accuracy, safety, or usefulness of the information, programs, various services, or any other matters related to this campaign.
○The personal information of entrants will be used for the purpose of selecting photos, contacting entrants regarding the photo contest, and sending out prizes.
○Applicants' personal information will not be disclosed or presented to any third party other than subcontractors without the prior consent of the applicant.
○Internet communication and connection fees are the responsibility of the applicant. We are not responsible for any connection problems during communication.
○We will not respond to any inquiries regarding the process or results of the selection process.
Matters related to Twitter and Instagram
◆The management of this contest is not responsible for the content posted on Twitter, Instagram, or other social networking sites by entrants to this contest, or for any problems related to such content.
◆Please comply with the terms of use of Twitter and Instagram.
◆This contest is not supported, endorsed, or administered by Twitter/Instagram in any way.
◆The operator will not be liable for any damages resulting from the interruption or suspension of the contest operation caused by the operating environment of Twitter, Instagram, or related applications.
Handling of Personal Information
●The personal information you provide will not be used for any purpose other than those related to this contest.
●For other information on how we handle personal information, please refer to our Privacy Policy.